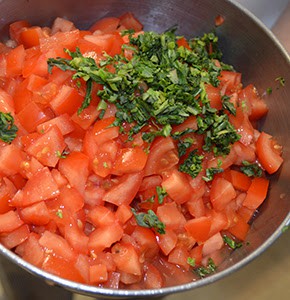 Ingredients:
6 vine-ripened cluster tomatoes; chopped
2 shallots; chopped
1 tbsp lemon zest
2 tbsp capers
½ cup white wine
1 tbsp lemon juice
2 tbsp fresh basil; chopped
1 tsp Olive oil
1. In large saucepan add olive oil and chopped shallots to sauté and lightly caramelize.
2. Add capers and white wine to skillet and reduce mixture
3. Add tomatoes and remaining ingredients and cook on medium heat until the tomatoes soften
4. Remove from heat and serve
This recipe goes great to dress up a simple pasta or chicken dish or can be added to veal or white fish dish as something a little more fancy!
Pairs well with a crisp, dry white wine, such as Pinot Grigio.